Kona Hawaii
Kona Hawaii isn't the Big Island's largest city or its commercial center—that would be Hilo—but it is the main spot for tourism. Previously known as Kailua, the town's name changed to Kailua-Kona in order to differentiate it from other towns named Kailua in the state of Hawaii. So the town now goes by many names including Kailua-Kona, Kailua, Kona, and even Kailua Town. It's a bit confusing but just remember that all of these names refer to the same place. For the sake of simplicity, let's just call it Kona. Hawaii has lots of places with multiple names, so it's just something you have to get used to.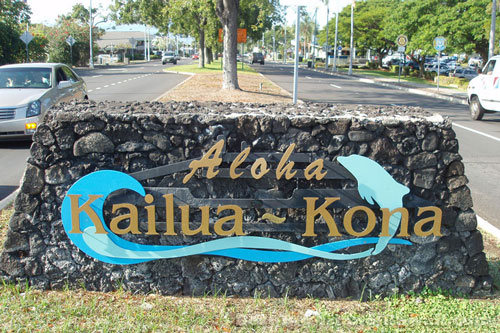 Not that long ago the town of Kailua was a quiet little out of the way fishing village far from the Waikiki scene before it became Kona and Hawaii saw big jump in tourism. Now it's a busy little place that still maintains a good amount of small town charm. The main airport (Kona International Airport - KOA) is just nine miles north of downtown Kona and, while the airport is the main gateway to Kona and the Big Island, lots of visitors also pass through and spend a day or two as part of a Hawaiian cruise.
The weather in Kona is Hawaii at its best. Located on the west side of the Big Island (also called the leeward side), Kona is sheltered from the Pacific trade winds that hit the island on the eastern Hilo side (or windward side). Furthermore, Kona sits at the foot of Hualalai, an active volcano (don't worry, it hasn't erupted in over 200 years) that also helps to keep any bad weather away from the town. Also, most of the best beaches on the Big Island are on the Kona side and are within a short drive from downtown Kona.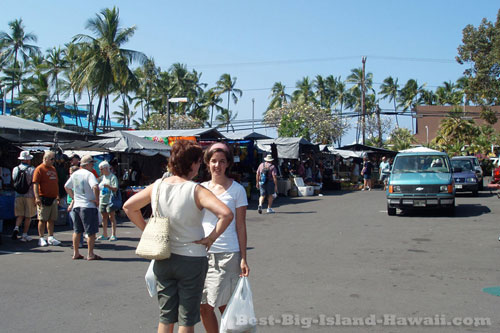 Kona Farmers Market
While there are lots of
things to do and places to check out
all over the Big Island, Kona is the place to be for shopping and dining. Ali'i Drive (pronounced
ah-lee-ee
) is the main strip for everything from cafés to souvenir shops to art galleries and restaurants with an ocean view. Ali'i Drive starts downtown near the Kailua Pier and King Kamehameha's Kona Beach Hotel and continues south for several miles. The main strip for walking, shopping and dining is the mile long stretch that begins at the pier ends around the Royal Kona hotel to the south. The
farmers market
near the corner of Ali'i Drive and Hualalai Road is open Wednesday to Sunday until 4 pm and is a great place for fresh produce and flowers plus all kinds of gifts and crafts.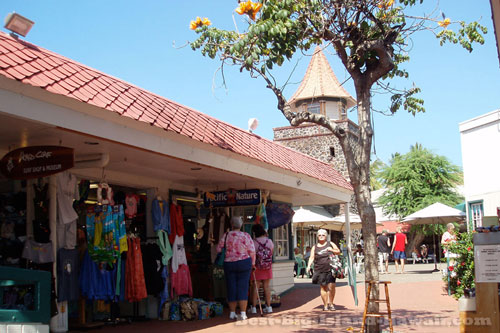 Shopping on Ali'i Drive
There's no shortage of dining options in Kona. There's really everything from standard American fare to sushi, Thai, Mexican, Italian—you name it Kona's got it. For great Kona Coffee and breakfast with a view, try Island Lava Java. If you're looking for oceanside food and drinks, it doesn't get more oceanside that Huggo's where the view is worth the premium prices. For more upscale oceanside dining or a Kona Hawaii luau, check out the Royal Kona next-door.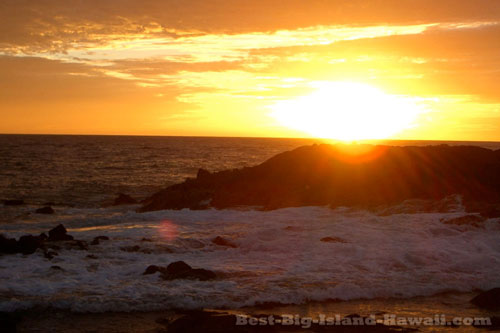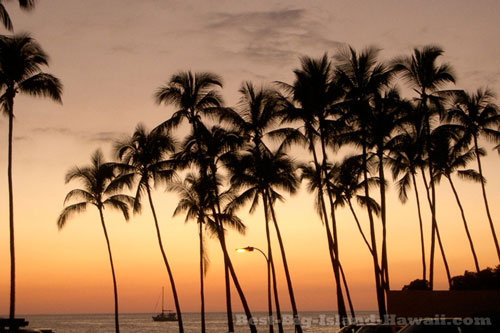 Kona Hawaii Sunsets
Stay off the roads in Kona at rush hour (yes, even Hawaii has a rush hour). With Kona so close to so many activities, it's easy to plan your day so you can enjoy Kona Hawaii at its best. It's the perfect place for a morning stroll and a cup of coffee as the sun rises over Hualalai and runners are out for a jog. Then come back for afternoon shopping and stay for a sunset view from along the seawall or at Hale Halawai Park. And, once the sun sets, stay for dinner and drinks.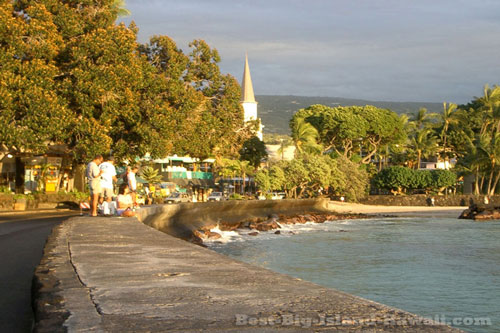 Seawall on Ali'i Drive
Unless you're sequestering yourself at a resort in Kohala or you're based in Hilo, Kona Hawaii will probably be the hub for your Big Island experience. The best way to get to know Kona is to take your time. Check out downtown Kona for the first time without a plan—just take a stroll and get the lay of the land. Then come back with plans for checking out that happy hour special you saw or that perfect piece of Mac Nut Pie that was calling out to you. Take your time and explore—you won't be disappointed—Kona has something for everyone.