Big Island Volcano Facts
If you're going to Hawaii and you want to find volcanoes, the Big Island is the place to visit. While there are volcanoes all over the world, it's important to remember that not all of these volcanoes are active volcanoes. The same is true about Hawaii. All of the Hawaiian Islands are volcanic Islands, meaning that they were all created by volcanic activity. But the Big Island is the only one of the islands that's still an active volcano. This means that the Big Island of Hawaii is one of the few places in the world where you can get up close and personal with an active volcano.
On this page we'll cover the basic information about the Big Island's two active volcanoes—Kilauea and Mauna Loa—as well as some facts about what it means for a volcano to be "active". The most important thing to know is that visiting an active volcano does not mean walking into a natural disaster. Millions of people visit the Big Island's active volcano sites each year and do so safely with great memories to last a lifetime. Keep reading to find out why visiting the Big Island's volcano sites is one of the most popular attractions for visitors to Hawaii.
What does it mean that the Big Island volcano is active?
Volcanoes are usually labeled either active, dormant or extinct. These labels relate to the amount of time that has passed since a particular volcano last erupted in relation to earlier eruptions. Volcano scientists (or volcanologists) spend lots of time using complicated methods to determine whether a volcano is active, dormant or extinct. But in general terms, active volcanoes are those that are erupting or are likely to erupt, dormant volcanos are unlikely to erupt any time soon and have no eruption record in recorded history, and extinct volcanoes will probably never erupt again.
Perhaps the easiest of these labels to apply is active. Active volcanoes are generally ones that have erupted in the past few thousands of years and/or are currently erupting. The Big Island has both active and dormant volcanoes. In fact there is more than one Big Island volcano that's active.
Big Island Volcano Sites
The largest Big Island volcano is Mauna Loa. It's summit reaches close to 14,000 feet above sea level and stretches out in all directions from there. Mauna Loa is the second largest volcano in the world and covers over 2,000 square miles, which is about half of the total area of the entire island. It's expansive size is where it gets its name—Mauna Loa means "long mountain". Though it hasn't erupted since 1984, it's still considered an active volcano. The summit of Mauna Loa is quite remote but is accessible by road. It's less visited than the slightly higher altitude summit of Mauna Kea but offers similarly incredible views.
The most active Big Island volcano is actually the most active volcano in the world. It's called
Kilauea
and it's the feature attraction in the
Volcano National Park
. The park and it's Kilauea volcano cover over 500 square miles (more than 10% of the Big Island) and the reason it's so big is because the Kilauea volcano itself is so big. Kilauea and the other Big Island volcanoes have grown over hundreds of thousands of years and are still growing. This volcano is located on the southern part of the island and it stretches from its summit (or
caldera
) over 70 miles in one direction and over 20 miles in another direction.
The Kilauea crater has been erupting constantly since 1983. In your mind, you might be picturing a tall volcano spewing massive amounts of lava out of its towering cone and wiping out everything in sight. While that kind of volcanic eruption is real, Big Island volcano activity is more of a slow, sputtering phenomenon. The good news is that your hotel probably won't be consumed by lava flows and you might actually get to observe active lava flows up close and in person. Viewing Big Island volcano activity is actually very safe and almost a million and a half people visit the Volcano National park every year to see it's incredible sites.
The question that most people have about visiting the volcano sites in Hawaii is what will I get to see? Will you have the chance to see active lava flows on your visit to the Big Island? The answer is maybe and this is because, while the Kilauea crater has been constantly active since 1983, a lot of this activity happens underground and out of sight. But, the volcano does sometimes offer tantalizing glimpses of what's going on underground when lava surface flows appear. Even when there aren't surface lava flows that are visible, there are all kinds of amazing sites to check out. The national park and other areas offer incredible hikes, access to lava tubes and steam vents, rock formations, oceanside cliffs, crater views and more.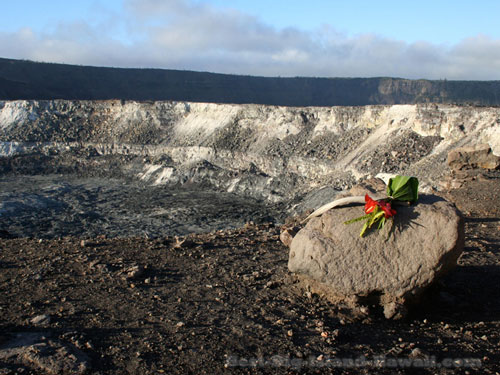 To find out more about what the park has to offer and how to make the most of your time there, check out our Hawaii Volcanoes National Park page. To learn more about surface lava flows and how to enjoy them safely when they are available, visit out our guide to viewing surface lava flows. It includes information on what to expect, where to go and how to view lava flows safely when they are accessible.