Island Lava Java
Island Lava Java, which often goes by just Lava Java, is unmatched among Kona restaurants when it comes to the perfect combination of location and great food.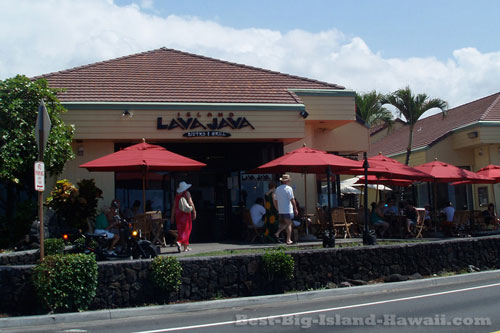 Located in the Ali'i Plaza right on Ali'i Drive, Lava Java offers one of the best views in Kona because they're right across from the seawall with nothing obstructing your view of the ocean from their outside seating.
They open early for breakfast making it the perfect place to enjoy an early coffee and pastry in the quiet hours before downtown Kona get's busy later on in the day. The pastries and baked good are homemade and breakfast menu also includes excellent omelets and egg sandwiches. While I think of Lava Java as mostly a breakfast and coffee place, they also have some great fresh salads, sandwiches and entrees for lunch and dinner too.
Their extensive menu of specialty coffees (all made from quality Kona Coffee), teas, and smoothies make this a great place to stop by any time of day for a great hot or cold beverage—a perfect break with a view during a shopping day in Kona. Grab a seat outside and do some people watching or cross the street and sit on the seawall for a great view.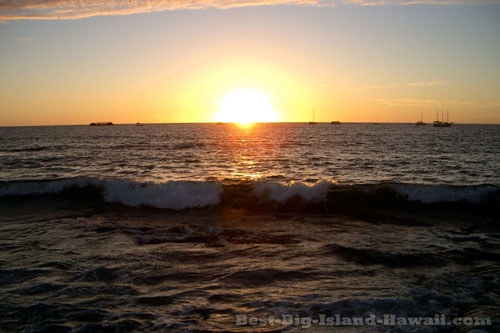 Sunset view from the seawall just opposite Lava Java
Lava Java's prime location and fantastic food means that they're often quite busy. Be patient and you'll be able to grab that perfect outside table with a view. For a slow relaxing breakfast, definitely come early because this popular spot becomes a bit chaotic during the late morning hours and lunch time. It's still a great place to eat when it's busy but only if you don't mind the fast paced crowded feel that comes with it.
Check out the Island Lava Java website for menu options, hours and more.