White Sands Beach
White Sands Beach (also known as 'Magic Sands Beach' or 'Disappearing Sands Beach' is a beautiful little spot right in Kailua-Kona.
The nicknames for this beach come from the fact that the sand here does a disappearing act when the surf is high and reappears when it's calm. The high surf washes the sand offshore leaving the beach quite rocky and uninviting. But when the surf subsides, the sand returns and covers up all those nasty rocks leaving a nice stretch of clean, sandy beach.
During the winter is when the surf is the highest, so this is when it's more rocky here and less sandy. In the summer, the sand comes back and the beach can properly reclaim its name.
Keep all of this disappearing business in mind when considering White Sands. Time of year is everything. It's really only worth spending time at this beach when it's nice and sandy.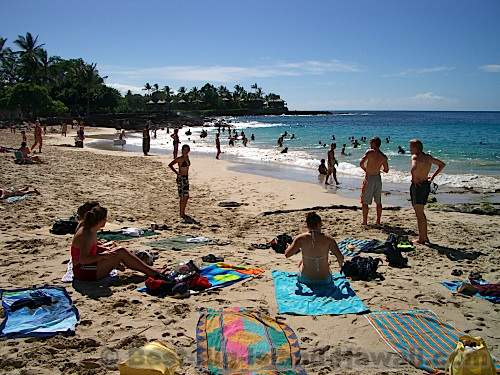 Because of it's convenient location in Kailua-Kona, this beach is a popular spot and can sometimes feel crowded. To get there, just head South on Alii Drive (pronounced in three syllables: Ah-lee-ee) from downtown Kona. The beach is right off of Alii, just North of mile marker 4. Though not very large, the beach is a great spot to enjoy the ocean. There's access to convenient parking, restrooms and picnic facilities.
This is an excellent place to swim in relatively calm conditions. But, when the surf is up, the waves break right on the beach and can be very dangerous. It's also a popular spot for bodyboarding.
This beach isn't as impressive as some of the more remote beaches on the Big Island, but it's a great place to visit when you don't feel like making the effort to head off the beaten path.