Mauna Kea Beach
Mauna Kea Beach (also known as Kauna'oa Beach) is one of the largest and most consistently uncrowded beaches on Hawaii's Big Island. The tricky part is that access is very limited.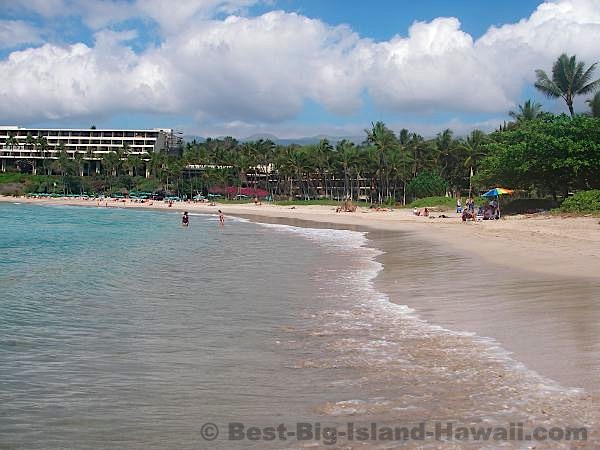 This beach is connected to the Mauna Kea Beach Hotel, which is at the north end of the beach. Beaches on the Big Island are all public access. The catch here is that, unless you want to walk (not really an option), you need a place to park. The hotel provides about 30 parking spaces to the non-hotel-staying public. This means that to be able to enjoy this beach, you need to arrive early or be lucky enough to get there after someone has left.
This beach is about 30 miles north of Kailua-Kona on Highway 19 and is accessed via the hotel's main entrance. The entrance to the hotel is at mile marker 68. When you pull in, you'll approach an attended gate. As you pull up to the gate you may see a sign letting you know that the beach parking is full, this means you'll be making an immediate U-turn and heading back out to the highway. The good news is that if the parking is full, Hapuna Beach is just one mile south and is happy to welcome those rejected from Mauna Kea with open arms.
If you're intent on visiting this beach (and who could blame you, it's beautiful and uncrowded) you should arrive not much later than 9:00 in the morning. I'm not much of an early bird, so we've often planned a Mauna Kea or Hapuna beach day. What we'll do is drive to Mauna Kea Beach first and take our chances. If there happens to be a spot, great—if not, we head back to Hapuna. The best time to find that lucky spot that has just opened up is in the mid afternoon (1:00 - 3:00ish). By this time the early birds have had a full day and are heading home, but there's still enough time to have a half day and enjoy the sinking sun as it sets towards the ocean.
If there is a spot available, the attendant at the gate will give you a pass and will point you in the direction of the beach parking. Just follow the road and you can't really go wrong. When you get to the public parking, you'll hand in your pass to another attendant. It's about a 5 minute walk from the parking to the beach. Once you get there you'll see what all the fuss is about.
The beach itself is about a 1/4 mile long with perfect fine sand. It's a great spot for walking and swimming. The rocks at the South end of the beach are a nice spot to snorkel when the water is calm. The hotel maintains public restrooms and showers for all visitors. Be very aware of ocean conditions because there are no lifeguards on duty at Mauna Kea Beach.