Big Island Snorkeling
Big Island snorkeling is one of the best ways to enjoy the beautiful ocean waters in Hawaii. If you like being in the water, then you should definitely make time for snorkeling while you're on the Big Island.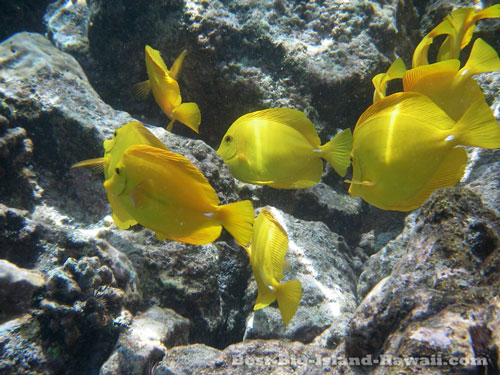 There are some beautiful snorkeling spots that are very easy to get to so, whether you're an experienced snorkeler or you just want to try it for the first time, anyone—kids and adults—can get out for a fun day of snorkeling and see some amazing ocean life up close.
Hawaii's clear warm waters and accessible coral reefs make the Big Island the perfect place for snorkeling. The western (or leeward) side of the Big Island is a snorkeling paradise because of the relatively calm waters. In and around Kona, you will find lots of places where you can slip on a mask and fins and get an up close look at hundreds of species of fish and other sea life.
Big Island Snorkeling Equipment
The basic equipment you'll need for snorkeling on Hawaii's Big Island is basically just a mask, snorkel and fins. Of course, if you're a snorkeling pro with your own equipment, you're all set. For the rest of us, there are a lot of ways to get a hold of what you'll need. The two basic options are either buying or renting equipment.
Buying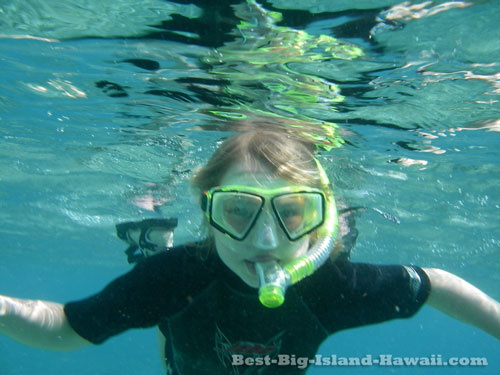 Like a lot of sporting equipment, the cost of basic snorkeling gear can range from very inexpensive to very expensive. You can buy pro snorkel gear at specialty shops but you can also get it at places like Walmart or Costco. When buying, you should look for the kind of gear that fits your budget and your needs while keeping mind how much use you'll get out of the equipment. Even inexpensive snorkeling equipment will let you enjoy the waters of the Big Island. But, you'll get the most out of your snorkeling experience by using quality equipment. There's nothing worse than being in the perfect snorkeling spot on the perfect day with a cheap mask that leaks or fins that hurt your feet so much you can't even use them.
Options for full-service shops for snorkeling and dive equipment include:
Big Island snorkeling outfitters include Jack's Diving Locker, Snorkel Bob's and Miller's Snorkel & Surf.
Renting
Renting snorkeling equipment is by far the best option for most visitors. Renting equipment is inexpensive and you get to use some quality gear that will let you enjoy the best snorkeling spots on the Big Island without blowing your budget or having to deal with poor quality equipment.
The most convenient option for snorkel rentals on the Big Island is
Kahalu'u Bay Surf & Sea
. They're located right across the street from
Kahalu'u Beach Park
, one of the best beginner snorkeling spots on the island and the place where you'll probably get started snorkeling if you're on the Kona side. Just look for their orange house right across from the bay.
They offer great prices on quality equipment that will let you get the most out of your snorkeling. You can rent gear by the half day, full day or even by the week. A weekly rental costs just slightly more than two days at the daily rate, so this is your best bet. Hanging on to your equipment throughout your trip is great because you'll always be able to check out the sea life as you explore the many beaches and snorkeling spots the island has to offer.
Underwater Cameras
Another piece of equipment that you might want to consider is an underwater camera. These days, cameras that take great pictures underwater are relatively inexpensive. For less than $200, you can get a shockproof, waterproof camera that can usually go at least 10 feet under water. With an underwater camera, you can capture priceless souvenirs of your Big Island snorkeling experience. All of the pictures on this page were taken with an underwater point and shoot camera. They are great for all kinds of other activities too like skiing, snowboarding, boating, trips to the beach—any time where you might risk bumping your camera or getting it wet. Local stores also sell disposable film underwater cameras if you just want to grab a few shots. Results with these cameras are usually poor, however.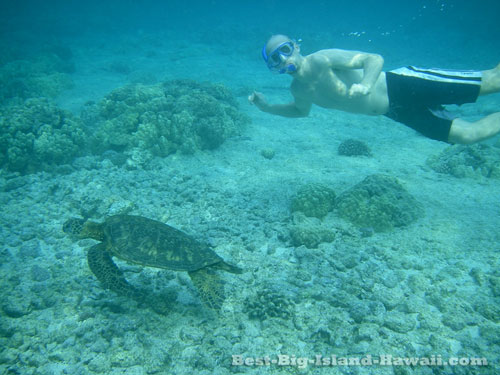 Big Island Snorkeling Spots
Kahaluu Beach Park
A great place on the Big Island for snorkeling for the first time is Kahaluu Beach Park. The beach is easily accessible just south of downtown Kona and provides a great place for kids and adults to give snorkeling a try. The shallow waters of the reef at Kahaluu are protected by a sea wall, which makes for a very calm setting. At Kahaluu, you can walk right in at the beach, slip on your fins and be seeing fish and sea turtles in minutes.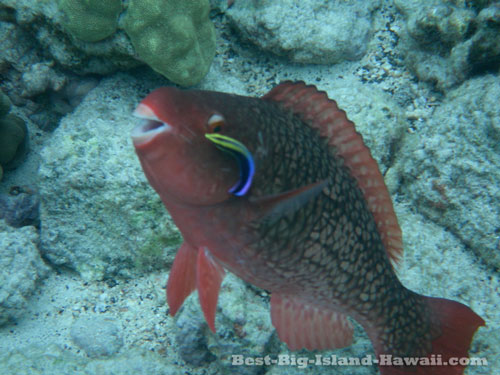 The bay is shallow, so it's easy enough to stand in the water but you should avoid this if at all possible. Touching the reef in any way—especially standing on it—is very damaging.
In general, the further out towards the sea wall you go, the less crowded the waters are and the more calm and relaxing your snorkeling outing will be. Kahaluu is an excellent place to spot sea turtles, which can be found all over the bay.
But, because of it's easy access and inviting waters, Kahaluu can get a bit crowded and isn't as pristine as less frequented spots. For one of the best Big Island snorkeling experiences that takes a little more planning, check out Kealakekua Bay.
Kealakekua Bay
Kealakekua Bay is a short half an hour drive from Kona, just past the town of Captain Cook. The bay is over a mile across and 500 feet deep. The road leading down to the bay ends at a boat launch area where most snorkeling trips start. Snorkelers kayak across the bay to the area near the Captain Cook monument where the large reef provides an amazing snorkeling location.
Currently, in an effort to preserve and improve the sustainability of Kealakekua Bay as a kayaking and snorkeling site, the state has put limits on who can launch kayaks in the bay and land them in the snorkeling area. A kayak can be taken out into the bay as long as it is rented from a business with a permit. But kayaks can only land in the snorkeling area when part of an authorized tour group. Various companies provide authorized guided kayaking and snorkeling tours, such as Kona Boys. For the latest information on restrictions and conservation efforts, visit the Hawaii State Parks online information on the Kealakekua Bay State Historical Park.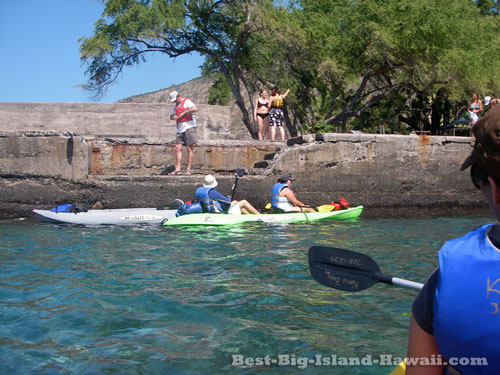 Kayaking the bay and snorkeling on the other side makes a wonderful day trip. Take your time and enjoy the dark blue water and the scenery around you. The deep waters of the bay are sometimes visited by whales and spinner dolphins who occasionally make an appearance at the surface, so keep your eyes peeled. Should you see any dolphins jumping around your kayak or in the distance, enjoy the view but don't try to follow them or get too close.
When you arrive on the far side of the bay, your tour guide will instruct you on how to land properly. The landing area for kayaks is also the starting point for snorkeling. Take your time and explore the shallow reef areas and they deeper parts where the reef descends sharply into the deep blue abyss. Floating over top of these underwater cliffs makes you feel like a bird in flight. Take the time to let you eyes adjust and see how deep down you can see. It's not uncommon to see a school of large fish for dolphins more than a hundred feet below the surface.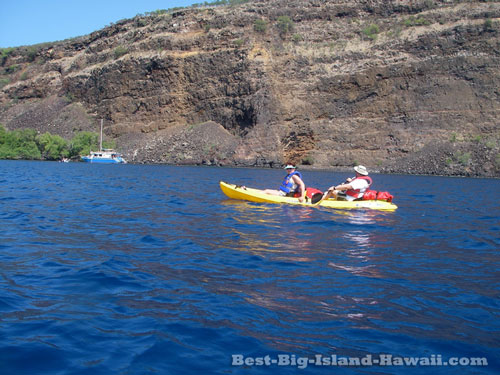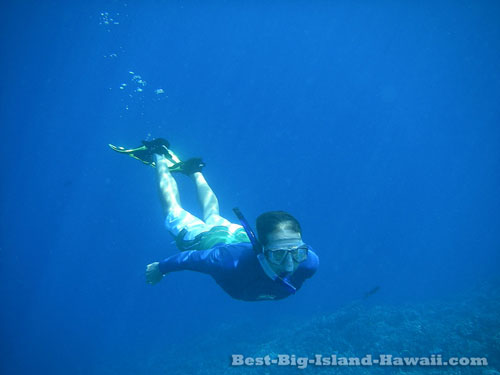 Big Island Snorkeling Boat Tours
If you want to let someone else worry about arranging the equipment and the transportation, consider a Big Island snorkeling cruise. These tours usually depart from somewhere near Kona and take you to one or more great snorkeling spots. Most trips are a half day (morning or afternoon) and include all snorkel equipment and some food. Prices range from about $50-130 per adult (children are less) depending on the length of the trip and the extras. Remember that a "4 hour trip" isn't 4 hours of snorkeling—that time includes travel to and from the place where you meet the boat. Be sure to ask how much actual snorkeling time you'll get. Options for Big Island snorkeling boat tours on the Kona side include the Fair Wind II catamaran, Sea Paradise and Sea Quest.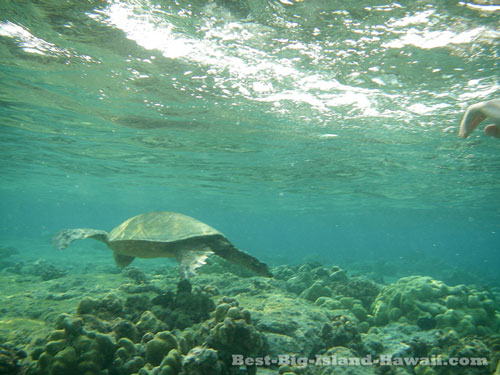 Big Island Snorkeling Tips
Getting the most out of your Big Island snorkeling trip means having the right equipment, knowing how to enjoy yourself safely and respecting the natural environment so that everyone who comes to the same spot after you can enjoy it as much as you did.
Make sure you have comfortable equipment that fits you properly — You will not enjoy your day if you fins cut into your feet or your mask leaks. Whether renting or buying equipment, consider picking it up at least a day before you plan to go snorkeling and try it out at the beach or in a pool.
Be aware of ocean conditions — It can be hard to notice the way to ocean moves when you're floating on the surface checking out the fish so be sure to get a good sense of the area before you get in. Is there any breaking surf or large rocks nearby? Know before you go!
Don't feed the fish — You may see people feeding the fish (especially at Kahaluu Beach Park) but it's a really bad idea. This seems like a great way to get instantly surrounded by a whole school of fish but it's really bad for the fish and their ecosystem. Enjoy the fish population without adding your own snacks to their diet.
Look but don't touch — This applies to fish, turtles, plants and coral. Not only is it bad for the reef to be touched by snorkelers in any way (including standing on the reef), it's also illegal to disturb protected sea life like turtles and certain fish. Don't touch and don't try to take anything with you. Pictures make great memories but it is very disrespectful and destructive to try to take anything from the ocean for your bookshelf or your aquarium at home.
For more tips—including advice for beginners and reviews of some lesser known snorkeling spots—check out the Big Island Snorkeling guide by snorkeling experts Galen and Nicole at TropicalSnorkeling.com.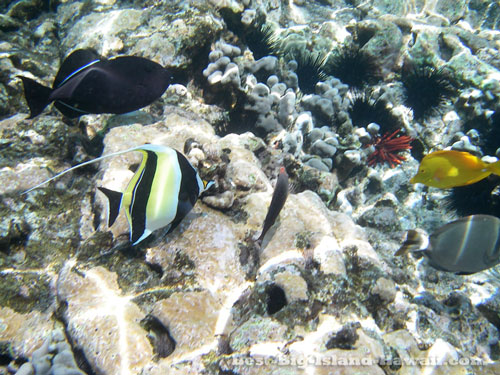 While on the Big Island, snorkeling is one of the best ways to gain an appreciation for just how much goes on beneath the surface of the ocean. From countless shades of blue to hundreds of species of fish and other sea life to amazing coral formations and more—a snorkel trip on Hawaii's Big Island is sure to be a memorable experience for those that love to explore and be in the water!