Ocean Sushi Deli
Ocean Sushi in Hilo is a great sushi place that meets my two main requirements for a sushi restaurant. For a sushi place to be a keeper, the fish has to be really good and the prices have to be reasonable enough that it doesn't cost $50 plus per person to have a decent meal. There is some great sushi in just about every city if you're willing to pay through the nose for it, but the real sushi gems are those places that you can enjoy a good amount of quality sushi and not break the bank.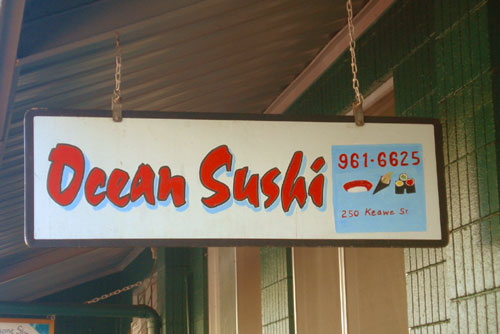 Ocean Sushi Deli is that kind of place. They're not winning any awards for Japanese decor—no artificial koi ponds or bonsai trees here—but if it's you're looking for good quality sushi for a good price, Ocean Sushi is the place in Hilo. Locals flock here for lunch and dinner so come early if you want to avoid the rush. At busy times it can be tough to find a table.
The menu at Ocean Sushi is fairly simply. This is not one of those high end places with dozens of elaborate special roles, but for simple sushi made with good quality fresh fish, it's a winner. There are classics like the volcano roll and the rainbow roll, plus local specials like the Hilo roll and the Big Island roll. Have a sushi hater in your group? They also have a few good non-sushi dishes like shrimp tempura, chicken teriyaki and mahi mahi.
Maybe some day they'll move out of their little hole in the wall on Keawe Street but, until then, locals and visitors in search of good sushi will keep coming back to this little downtown Hilo spot.
Ocean Sushi Deli has a very basic website with an online menu that you can check out.