Kua Bay Beach
If you can imagine the most perfect blue water in your mind, go a little more perfect and that's Kua Bay. This is one of the best swimming beaches on the Big Island. The fine sand slopes gently into the crystal clear blue water making this place absolutely irresistible.
It used to be that you had to walk all the way to the beach from the highway or drive down a pretty nasty 4 Wheel Drive road. Now it's easily accessible by car since the road in has been paved in recent years. The pluses and minuses of this change are debatable. It is certainly more crowded here that it used to be, but the easy access and new facilities are great.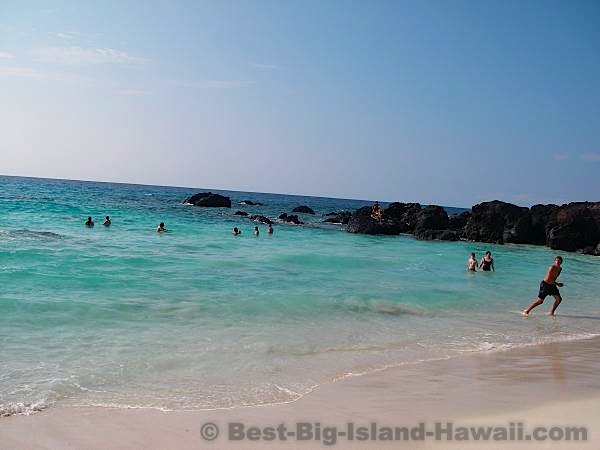 Some people call this place Mile 88 because the road to the beach is just South of mile marker 88 on Highway 19. The official name, according to the State of Hawaii, is Manini'owali. But the most common name for this beach is Kua Bay.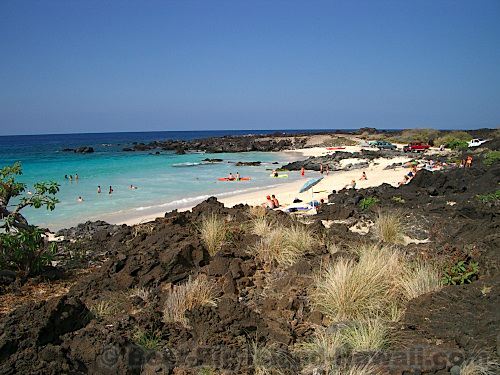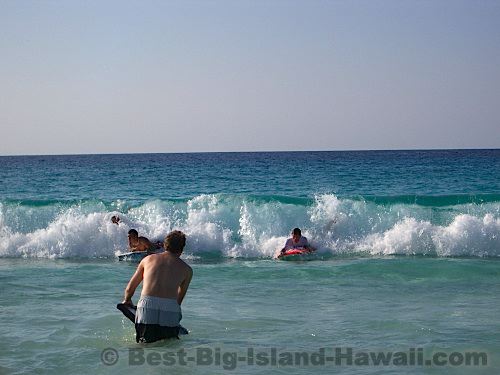 Whatever you call it, you will enjoy yourself at this beach. This is a great spot for bodyboarding when the surf is not too high. Be very careful when the surf is up, since the waves here are very powerful. The sand is more plentiful during the summer months and thins out a bit in the winter when it gets washed out by the surf.
You drive in off Highway 19 and park along the road as you get towards the beach. The road dead ends in a circle where you can unload your stuff and turn around. This is also where the restrooms and outdoor showers are located. Follow the sidewalk towards the beach where you'll pass a couple of picnic tables. You'll walk over or around some rocky areas down to the sandy beach.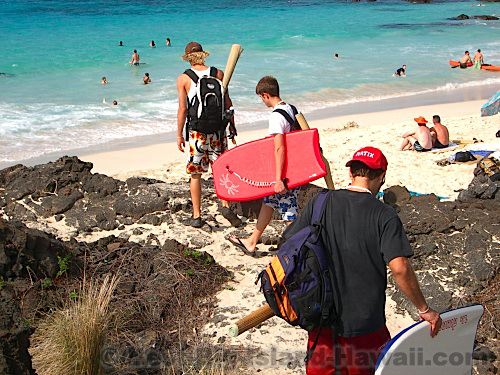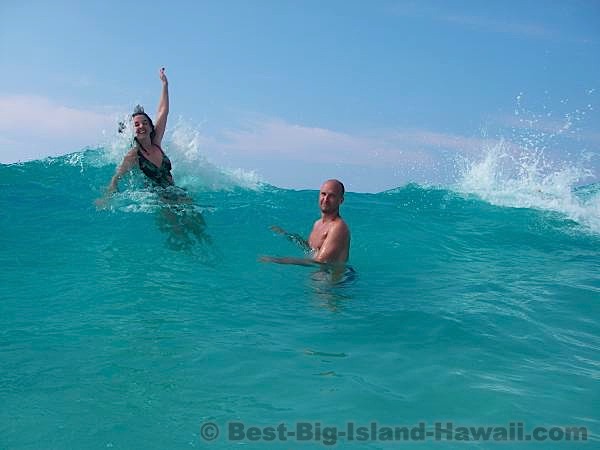 Words and pictures can't quite describe how beautiful Kua Bay really is. Come and enjoy the warm sun and clean water. This was always one of my favorite beaches when it was secluded and hard to get to. The paved road didn't change the perfect sand and clear water, so it's still a favorite that I suggest you check out.